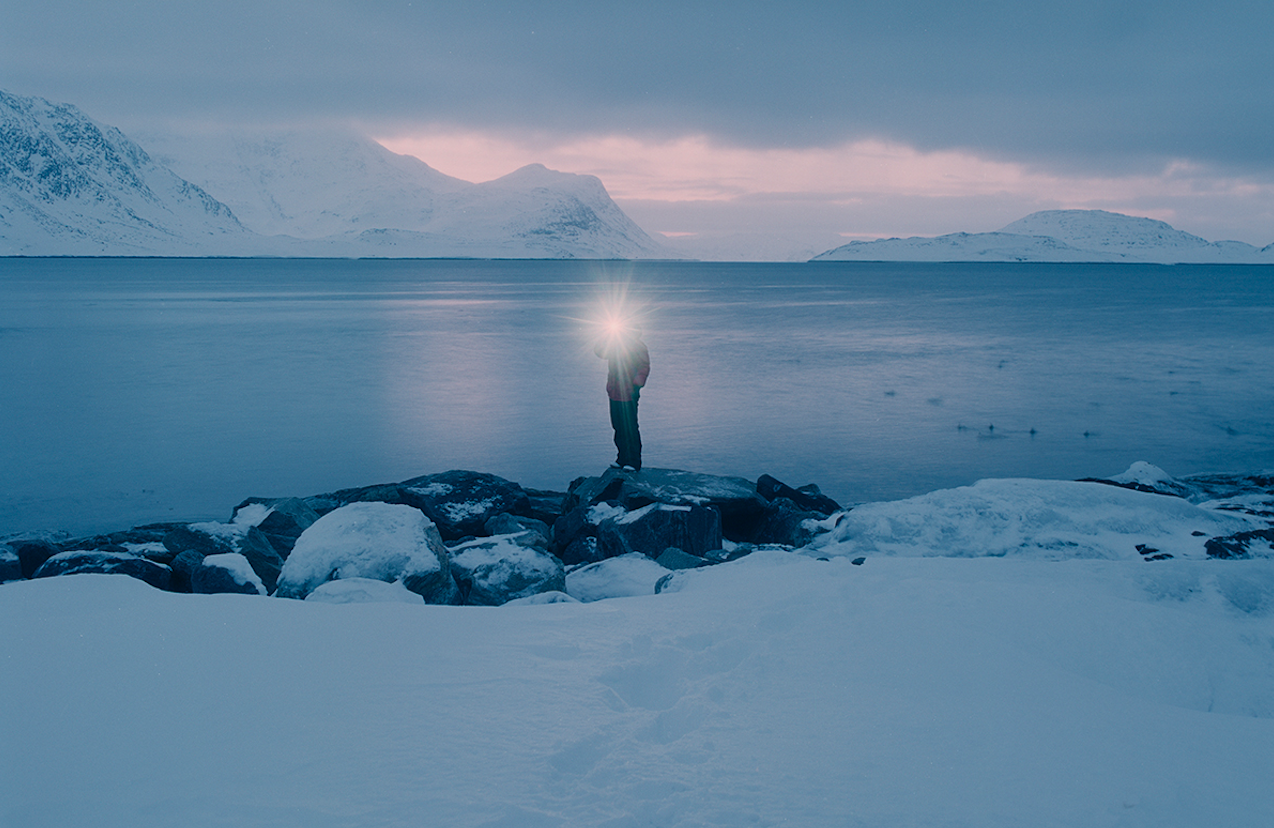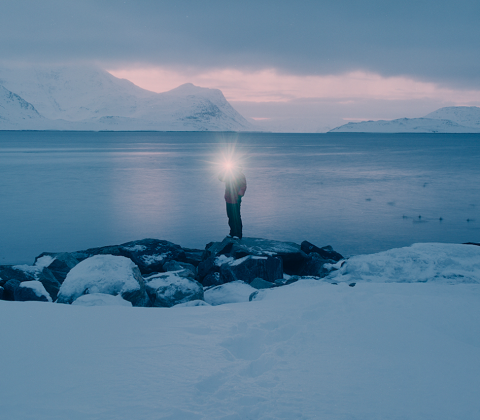 Lysindfald
Af Stine Lundberg Hansen
Nuuk Kunstmuseum har siden efteråret kørt et residensprogram med kunstnere fra Norden. Hver kunstner går i dialog med samfundet omkring; med Nuuk og med Grønland. Hver kunstner søger samarbejde, udforsker og udtrykker sig gennem sit ophold i Nuuk på små to måneder.
Den tredje kunstner i residensprogrammet* var Lotta Törnroth, som arbejder med havet; havet med længslen og rædslen knyttet til sig. I de tidlige morgentimer, før solen stod op, var jeg hendes assistent, da hun var ude ved fjorden og fotografere. Motivet var det samme – hende med lommelygten ved vandet; et motiv hun har gentaget forskellige steder i verden.
En gentagelse som sammen med den dialog og udforskning af Nuuk og fjorden – mennesket og havet – bliver en uddybning og et rum for forståelse og for ubegribeligheder overfor havet og dets magt over mennesket. Dette er indtryk fra morgener i Nuuk med kunstner Lotta Törnroth:
Ved nattens hæld i det tiltagende morgenlys stod kunstneren i landskabet ved fjorden med lommelygten hele tiden. Eksponering.
Denne morgen var stille. Havet havde lagt sig flat, og hver enkel farve fik tid til at strække sig over henover himlen.
Jeg skulle trykke en knap i bund – og slippe den igen. Udløse lysindfaldet og lukke igen. Eksponering.
Den tidlige morgen er et arbejde mod lyset med lyset før dagen.
Kunstneren stod på klipperne ovenpå sneen. Ved vandet, tæt ved. Altid med sin lommelygte Lyset.
Lyset pegede mod linsen, mod udløseren – mig? Den pegede mod sneen, stenene, fjorden og ud af billedet. Mod noget, nogle og alligevel ikke nogen.
Kunstneren arbejder mellem linsen og havet. Søgende og gentagende. Hendes krop, hendes placering, en rød jakke, en orange striktrøje, et rødt hår. Hende, kameraet og mig med udløseren. Retninger i landskabet.
En anden morgen var uden farver. Himlen overdækket, et mågepar imellem, og landskabet bart. Skrattende mens bølgerne – vågorna – kom med tidevandet. Vuggende, slikkende tager det til. Tidens vand.
Kunstneren kravlede langt ud. Jeg blev ved kameraet med knappen. Udløseren. Stående, mens kunstneren sprang i rundgang først dansende med lyskeglen, så i tid uden lys. Hun ville ikke eksponeres og træde tydeligt frem.
For lysets skyld skulle man kunne sige.
Forstår jeg, bosat her, privilegiet i dette landskab? I lyset af øer, fjelde og fjord. Privilegiet af ikke at skulle spejde efter de kuldsejlede.
Kunstneren lagde aldrig sin lommelygte. (Selv i lommen lyste den) Selv i dagslyset lyste den. Mod havet.
* Der kan læses mere om to første kunstnere – Marte Lill Sombye og Tinne Zenner – og deres møde og udforskning af Nuuk i det grønlandske kunst- og kulturtidsskrift Neriusaaq 1/2017 : http://neriusaaq.gl/ . Den fjerde og foreløbigt sidste kunstner i dette residensprogram – Inkeri Jäntti – gæster og arbejder i disse måneder (april/maj) i Nuuk. Følg med på Nuuk Kunstmuseums Facebookside eller på Inkeris blog : http://inkeritravels.blogspot.fi.