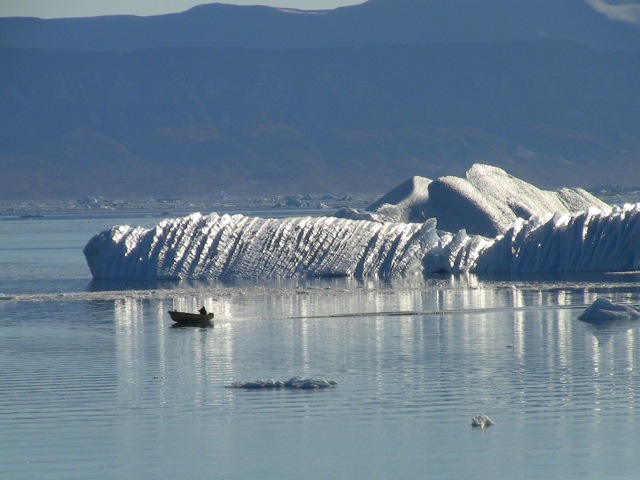 Isen hvor mennesket lever og bor
Isen hvor mennesket lever og bor
Grønland er kendt for sin indlandsis. Indlandisen kan smelte, verden forandre sig. Klima i krise er overskriften pt. Intet er fast, og hvad der er frosset kan smelte. Isen er ej heller altid gennemsigtig. Isen konstituerer manges møde med Grønland. Et land som i sin tid ikke fik navn af isen.
Lige nu er der to udstillinger i Nuuk. Udstillinger af kunstnere, som kom til Grønland og fandt inspiration.
På Nuuk Kunstmuseum vises Kirsten Kleins landskabsfotos af isfjelde ved siden af Jette Bangs ikoniske sort/hvide fotografier. På Nationalmuseet er Iskrystalprinsessen vol. 2, hvor designer Jørgen Simonsen inspireret af den grønlandske nationaldragt og sælskind udstiller fem haute couture kreationer.
Det er hverken fotografi, sælskind eller nationaldragt dette essay skal handle om – men om isen.
Iskrystaller
Jørgen Simonsen (f. 1972) lavede i slutningen af 90erne kollektionen Iskrystalprinsessen. Han havde aldrig været i Grønland, men havde brugt timer på at studere grønlandske klædedragter på et bibliotek i Paris. Volume 1 af Iskrystalprinsessen blev designet til modehuset Versace. På det tidspunkt havde Jørgen Simonsen kun besøgt Grønland i sin fantasi. Vi vender tilbage til Iskrystalprinsessen, men for et øjeblik dvæler vi ved fantasien.
…
Grønland er en fantasi. Det er utopien mod nord; fantasien om det uberørte, det overvældende, det opslugende, det slet og ret romantiske; det skønne, det sublime og det pittoreske.
Fantasien om det oprindelige. Naturfolket og forbindelsen til naturen; tætheden og samklangen. Det rå og barske iblandet det landskab, der tager pusten væk og fjerner benene under. Det eksotiske og fremmede.
Fantasien er levende i isens genskær.
…
Iskrystalprinsessen vol. 2 er en ny kollektion, hvor Jørgen Simonsen har besøgt og samarbejdet med Grønland.
http://sermitsiaq.ag/groenland-slog-benene-vaek-modedesigner
Iskrystalprinsessen vol. 2 er også et fotoshoot. Ved isfjorden. Med isfjelde, isblokke, isflader i baggrunden. Vi er ved Ilulissat – verdensarven og turiststed nummer 1. Ilulissat betyder isfjelde.
En kvinde poserer. Er hun prinsessen? Fantasien? Med bare arme blandt isen, på isen, ved isen.
En anden kvinde tager fotos – ikke i Ilulissat, men i Saqqaq længere nordpå. Af fjelde. Af is.
Isfjelde
Kirsten Klein (f. 1945) tog i en måned billeder af isfjelde. Formerne, lyset og rummet omkring dem. Som landskabsfotograf kan Kirsten Klein noget med rummet – hun kan tage billeder af dét, der ikke er. Af rum, af afstand, så luft fylder. Tomrummet presser sig på i hendes landskabsfotografier.
I billede på billede møder vi isfjeldene – og i hendes bedste fotografier fylder tomrummet omkring isen og presser sig på, som en dramatisk masse. Alligevel bliver isen et eksotiske møde – det fremmede stof. Koblet på fantasien om dette land.
Der findes tusinder og atter tusinder af billeder af isen i Grønland.
kunsten.nu/artguide/calendar/jette-bang-kirsten-klein/
I mødet med isen som fascination og som fremmedlegeme overses noget. At noget er det samme. At livet i Grønland leves og leves og leves*. Dag efter dag i flere tusinde år.
Fantasien om et land gjort af et andet stof – et stof klimaet kan forandre. Men intet er fast selv ikke isen - og endnu mindre fantasien.
For eksempel
Et isfjeld er stort og massivt – også selvom verden taler om, at det smelter. Isen er ikke altid gennemsigtig...
Grønland er et land, hvor livet leves. Ikke med en særegen mystik eller indkapslet i tiden. Men et levet, fremadskridende liv, som blandes og udveksles med andre. Grønland har aldrig været noget for sig – folk har vandret, sejlet og fløjet hertil.
Grønland var grønt i syd, da det fik sit navn. Nuuk er uden sne 4-6 måneder om året – selvom der kan komme isskodser sejlende i fjorden.
Men isen konstituerer manges første møde med landet – og for mange foregår første møde med Grønland i fantasien. 
Fra og til
På Nuuk Kunstmuseums samling – den største offentligt tilgængelige samling af grønlandsk kunst – går man fra ekspeditionsmalerne og alle dem, der kom udefra og og ind, blev inspireret, men aldrig slog sig permanent ned i landet, til de grønlandske kunstnere (kunstnere opvokset eller bosat i landet).
Isen er forskellen. Isen som optager så mange kunstnere udefra – isskodser, isfjelde, iskrystaller – men er fraværende som motiv, som fantasi i den grønlandske kunst.
Grønlandske kunstnere beskæftiger sig ikke med isen – ikke som fascinationsmotiv. Nogle kunstnere bruger blålige farver – som fra isen – men ikke til is, og farverne bruges for det meste mangfoldigt, som fjeldet om sommeren. Her er naturen og isen hverken skøn, sublim eller pittoresk. Den er – nogle gange et afsæt, en impuls, andre gange uden betydning. Og mennesket lever iblandt den.
Regler er undtagelser
Den grønlandske kunstner Inuk Silis Høegh (f. 1972) har pakket bygninger langt fra Grønland ind, så de blev til is. Et isbjerg. Ikke fantasien om landet højt mod nord, men en helt konkret fysisk manifestation.
Isbjerget er sat sammen af forskellige fotografier taget af fotograf Ivars Silis (f. 1940).
Inuk Silis Høegh genkalder i værket en nærmest pervers glæde i dét at konstruere sit eget isbjerg af egen fantasi. En fantasi som mimer virkeligheden, men ikke er den. Kan et isbjerg se sådan ud i virkeligheden? Som en kommentar til menneskets behov til at kontrollere naturen.*
En kommentar som også kommenterer på at gøre det rå, barske og sublime til det pittoreske, det sceneriske og til et landskab. Det skræmmende og det tæmmede. Og alligevel ender dette isbjerg måske med at være som Frankensteins drøm om mennesket, og at bygge og kontrollere det – noget der ender med at være udover vores fatteevne, noget der undviger vores kontrol.
Iluliaq, som værket hedder, manifesterede sig første gang under COP15 – FN's klimakonference i København i 2009. Dermed er værket også en kommentar til det, verden snakker om – isen smelter.
Isen iblandt fantasien
Isen er en realitet og et fantasifoster; en idé om et land mod nord.
Lige nu er der to udstillinger i Nuuk med isen som fascination, som inspirator, som fremmedlegeme, som drømmen om dette mægtige land mod nord med den overvældende natur. Dog et land, hvor mennesket har levet og lever og lever og lever…
* http://www.gallery.ca/en/about/1454.php
Artiklen er inspireret af "Til hæder og ære" af Aqqaluk Lynge (in: Til Hæder og Ære /Tupigusullutik angalapput, Brøndum, København, 1982) :
De rejste og rejste
i et land hvor de troede
at ingen menneskelige væsner
kunne leve og bo
De rejste og rejste
og da de kom fandt de nogle
som ikke kendte andet
til mennesker end sig selv,
De rejste og rejste
og gæstfriheden var stor
nysgerrigheden uendelig
men gæsterne var ikke til at mætte.
De rejste og rejste
alle vegne hvor de kom
blev menneskene undersøgt
deres klæder, slæder og udstyr blev opkøbt
De rejste og rejste
til så stort et land
kan der ikke være nok mennesker
til at navngive så mange steder
De rejste og reste
og rejste tilbage
med kort over landet
og livsform beskrevet
til hæder og ære
medaljer med mere
for at have berejst et land
hvor mennesker lever og bor